Women in governance: a duty, not a right
LAU Institute for Women's Studies in the Arab World hosts panel on strengthening female representation in Lebanon's governing institutions.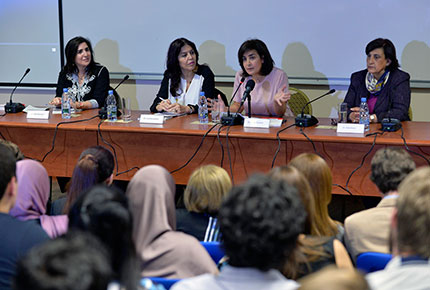 "Women in governance" was the topic of conversation last week at a panel discussion hosted by the LAU Institute for Women's Studies in the Arab World (IWSAW), moderated by journalist Diana Mukalled and strengthened by the voices of three Lebanese women working to get more women involved in the country's governing bodies.
The talk was the culmination of a project funded by the Italian embassy in Lebanon, represented at the event by Luca Portacolone. "A third of those elected to Parliament in Italy are women and half of our government ministers are women, including those for defense and constitutional reform," he said, adding that his country's success was the motivation behind its support for the program in Lebanon.
Despite being among the first Arab nations to grant women the right to vote, Lebanon lags behind other Arab countries when it comes to representation. Even though they only gained the right to vote and stand for election a decade ago, Kuwaiti women now make up six per cent of their country's parliament, compared to only 3.1% in Lebanon. Women in Iraq take 25 percent of parliamentary seats. "Even at a local level, our municipality elections see only four percent take up seats," said Dala Ghandour, a young lawyer who ran as an independent candidate in the 2010 Beirut municipality elections. "I knew I wouldn't win, but I wanted to make a stand."
Ghandour's lack of success in 2010 may actually have been the result of her running as an independent or was due to the fact that she started campaigning only ten days before the election, but her gusto and determination to represent women is what gained the media's attention and, she hopes, what may encourage more women to consider running in future.
Those brave enough to take up the challenge will face many hurdles. "In business, you need only gain the required skills and perhaps access to start up capital, but in politics the challenges run deep, into sectarianism and feudalism," said Lina Alameddine, founding director of the Partnership Center for Development & Democracy.
Fadia Kiwan, professor and director at the Institute of Political Science at the Université Saint Joseph, believes that the overwhelmingly masculine culture within the political system and all current parties is too prevalent to enable greater female participation without legislation. "We must do as other countries have and introduce quotas for women. It is the only way to ensure that party leaders nominate them as candidates," she said.
While Kiwan believes that the Lebanese people themselves are ready to embrace female politicians, Alameddine, who has worked as a strategic consultant for various political factions, does not. "They don't really accept me as a woman, and let's be honest, women themselves are not supporting women, they have surrendered, because they know that ultimately the country is simply going to be split six ways," she laments, referring to the family dynasties that continue to rule the country and stand in the way of all citizens, not only women.
"We must all work together for the good of all," urges Kiwan. "Women are equally educated and able and can represent the issues of half the population in a way no man can. Women must be part of governance. It is not their right, it is their duty and responsibility."