Women's rights advocates unite to break silence around domestic violence
A two-day workshop trained representatives of women's rights groups to combat gender-based violence.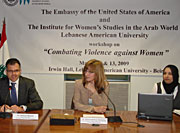 From left: Richard Michaels, U.S. Embassy cultural attaché; Dr. Dima Dabbous-Sensenig, IWSAW director; and Itedal Shalabi, the workshop trainer.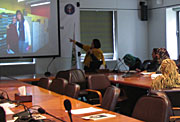 Participants during a group activity.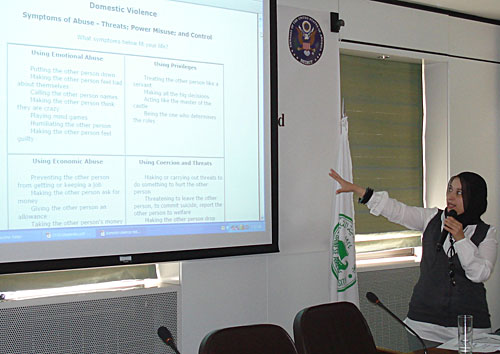 Shalabi explains the symptoms of abuse, including threats, power misuse, and control.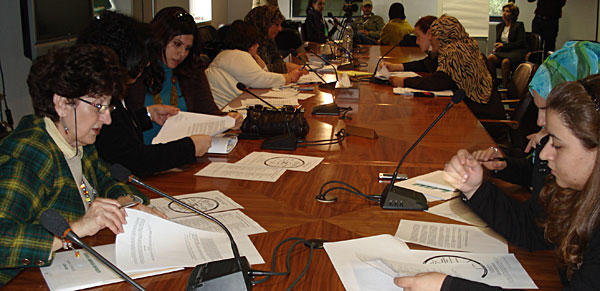 Participants during a group activity.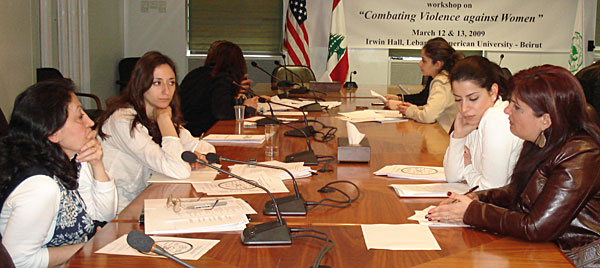 Participants exchange expertise.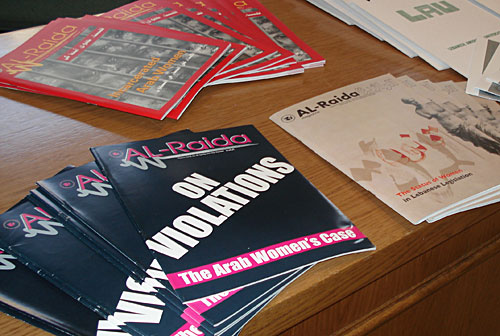 Al-Raida, IWSAW's quarterly journal, is one of the institute's means to spread awareness on domestic violence.



The training and organizing team with the workshop participants at LAU–Beirut.

Click on any photo above to view all seven images
Domestic violence is still a taboo in the Arab world and women's rights advocates should work together to break the silence barrier surrounding the issue, said Itedal Shalabi, a well-known Arab-American human rights activist, during a workshop on LAU's Beirut campus, March 12–13.

Shalabi, co-founder and executive director of the Arab American Family Services in Illinois, discussed with 38 representatives of women's rights organizations how to deal with victims of domestic violence in Lebanon.

"Things are not going to change a lot in our time, but if we act now, we're going to see a lot of change in our kids' time," said Shalabi.

Organized by LAU's Institute for Women's Studies in the Arab World and the U.S. Embassy in Beirut, the seminar aimed to be the starting point for building a network of experts and organizations to deal with gender-based violence, according to Anita Nassar, the institute's assistant director.

The participants included experienced social workers, volunteers, journalists and heads of women's rights organizations.

They were trained to advise domestic violence victims to deal with the authorities when filing for protection orders. They also learned how to counsel a child who had witnessed violence and how to report gender-based violence in the media.

"The most important thing I tried to teach them is that their values and beliefs should not interfere with their work," said Shalabi. "Keep your biases to yourselves, I told them."

The seminar also tackled ways to raise community awareness and to empower economically domestic violence survivors.

Shalabi said she was glad that the seminar room was full of active participants. "It's amazing to have such a large group of women talking openly about domestic violence," she added.

The event was an opportunity to exchange experiences and opinions. "I got a lot of interesting information from other organizations. We talked about cases," said Darine El Saddik, volunteer in the Tripoli branch of the Lebanese Council to Resist Violence Against Women. "It is very important for us to know each other and work together to tackle this issue in Lebanon," she added.

"Before this workshop some of these organizations didn't even know about each other," Nassar said.

The seminar ended with the participants' resolution to meet again under IWSAW's umbrella to plan advocacy events, including "Walk in Faith Not in Fear," a march against domestic violence that is already an annual event at Shalabi's organization in the United States.

Besides this workshop, IWSAW has organized other initiatives to fight domestic violence, Nassar said. In November 2008, the institute in cooperation with KAFA set up stands on the Beirut campus for two days to collect signatures in support of a draft law that criminalizes domestic violence in Lebanon.

The institute also tries to spread awareness through Al-Raida, IWSAW's quarterly journal, and workshops, said Nassar. "We don't work in advocacy, but try to train advocates," she added.


---
Related story:
KAFA

and

IWSAW

take a stand against gender-based violence