Young leaders get GOLDen experience at LAU New York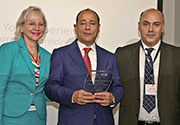 (from left to right) Vice President for University Advancement Marla Rice-Evans, Vice Governor of the Central Bank Dr. Muhammad Baasiri and Assistant Vice President for Outreach and Civic Engagement Elie Samia at the GOLD Conference closing ceremony.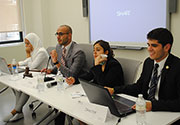 LAU student trainers go over UN procedural rules with the students.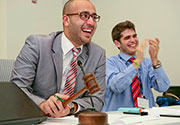 LAU student trainers having some fun with the mock simulation sessions.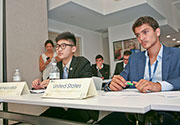 Each participant was assigned a member-state, observer state or organization, and had to learn that entity's profile.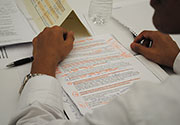 Drafting and re-drafting a UN Security Council resolution.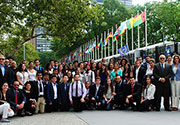 The conference concluded with a tour of the UN Headquarters.
Click on any photo to view all 6 pictures.
August 14, 2015—
LAU's New York Headquarters and Academic Center was abuzz with young aspiring diplomats last month, as 60 students representing 11 different nationalities filled its hallways and classrooms for the Global Outreach and Leadership Development Conference (GOLD).
The second annual GOLD conference was unique in that LAU was recently handed the responsibility of running two flagship Model UN conferences — the Global Classrooms International High School Model UN Conference and the Global Classrooms International Middle School Model UN Conference by UNA-USA.
Accordingly, LAU's Outreach and Civic Engagement unit, led by AVP Elie Samia, took on the GOLD conference with a profound sense of responsibility. The nine-day program began with a crash course on MUN, the United Nations and critical diplomacy skills, such as public speaking, role-playing and conflict resolution. By day two, LAU student trainers were drilling participants on UN procedure, the rules of debate, the essence of diplomacy and the art of negotiation.
Guest lecturers from a variety of disciplines spoke throughout the conference, lending their wisdom to the debate and igniting the pupils' malleable young minds.
Lambert Hogenhout, chief of Analytics, Partnerships and Innovation at the UN, touted the new relationship between his employer and LAU, giving a vivid presentation on the value of analytics. "Abstract, numerical analysis has … immediate practical applications to economic development, humanitarian affairs and peace building. Analytics helps us understand, predict, and hopefully improve the world," he said.
Vice Governor of the Lebanese Central Bank Muhammad Baasiri was a guest of honor at the conference, and gave a riveting lecture about the laws of compliance, particularly as they relate to combatting money laundering and countering the financing of terrorism: "There's a lot of demand for compliance professionals by banks and regulators worldwide, and there's a huge shortage of people. My hope is that LAU might create courses on these topics, and we are interested in shouldering with LAU any programs that would be beneficial to the young generation of Lebanon."
Chinese-Canadian participant Yicheng He Hank, 14, loved his first MUN experience. "The most challenging part was the moderated caucus," he said. "I was so nervous to speak, but when I was forced address the delegates, I learned how to control my nerves and now feel more confident."
During the conference, students came out of their shells and asked questions, moving from the back to the front of the room, and mixing more readily with their fellow participants. "Mr. Samia and Mr. Troy Wolfe (UNA-USA) inspired me to go from a passive person to an active person," said 15-year-old Hicham Armenoulitch from Houssam Eddine Hariri High School in Sidon. "So I came up with the idea to develop a fieldwork club at my school, to help UNHCR with the refugee crisis."
With LAU-New York located just steps from the UN in Midtown Manhattan, the conference reaffirmed the university's relationships with international partners such as UNA-USA, the Office of the Secretary General's Youth Envoy, the Friendship Ambassador's Foundation, The New School, Syracuse University, New York University, Foundations for Leadership and others.
"My proudest moment will be when the Lebanese leadership programs, made and designed in Lebanon, start to be adopted by American partners," said Samia. "We have a strong youth — articulate, outgoing, and energetic — we believe in them, and it shows."