Youth leadership program expands outreach efforts in Lebanese schools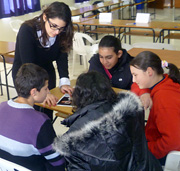 LAU student trainer Cynthia Nassif helps school students participating in the Youth Leadership Program in Hasroun, North Lebanon.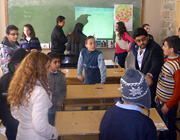 A group activity during one of the training sessions.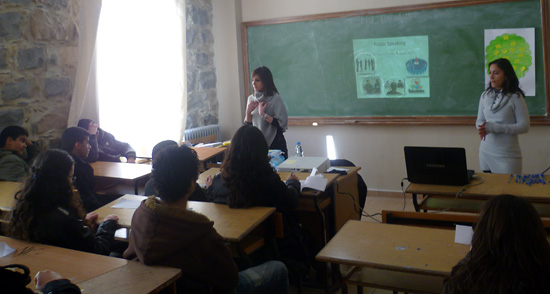 LAU student trainers Reham Darwish and Rana Jammal engage with the participants.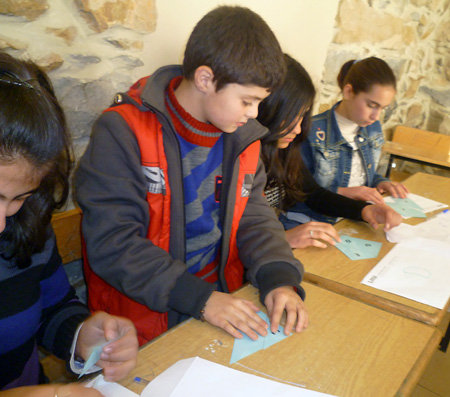 Participating students during an activity highlighting the importance of cooperation and teamwork.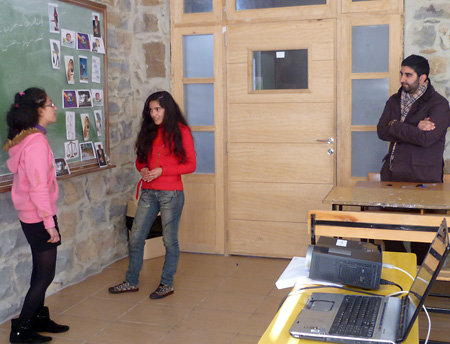 Two participants role-playing a "conflict" under the supervision of LAU student trainer Charbel El Khoury.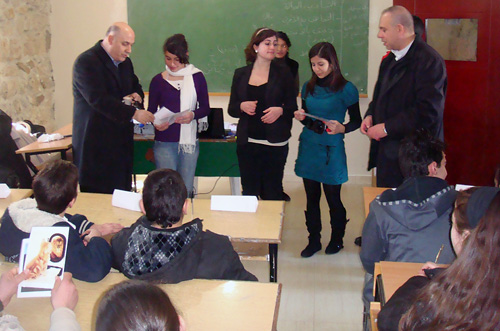 OCE Director Elie Samia (standing, 1st from left) with Fr. Gabriel Assaf, the principal of the Antonine School in Hasroun, engage with a student as trainers Mira Daher and Hala Badrachani look on.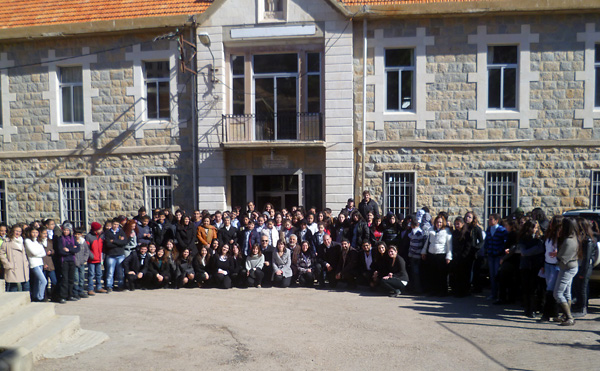 The OCE-organized program was held in the Antonine School, with the participation of 220 students from 10 schools in Bsharri and the surrounding areas.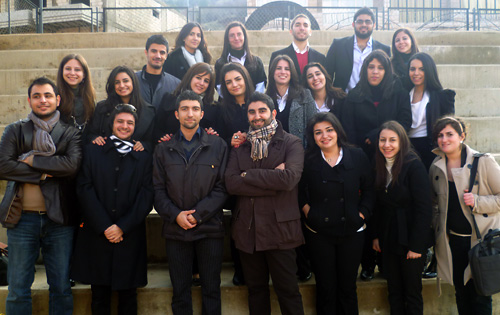 The 21 LAU students who were involved in the training program.
Click on any photo above to view all eight images.
February 23, 2011—
To train students from various schools in Bsharri and the surrounding areas on leadership skills, 21 LAU students headed to Hasroun, North Lebanon, on February 12.
The training sessions were part of a peer training initiative, called Youth Leadership Program, which is organized by LAU's Outreach and Civic Engagement unit. The program was launched last November in Tripoli and Sidon, where sessions were held with the participation of around 250 public and private school students in December, in collaboration with the Safadi Foundation.
Mary Ann Matta, an LAU economics student, was one of the trainers who were involved in the recent training sessions in Bsharri. She reflects on her experiences in this first-person report.

Departure: Beirut. Destination: Hasroun. Target: 220 students from 10 schools in Bsharri and the surrounding areas. Mission: Inspire and educate the students about the traits of a leader as well as the skills leaders possess, such as verbal and non-verbal communication and problem solving, while highlighting the importance of humility and teamwork.
Our journey started at 6:30 a.m. when all trainers gathered and headed to the North, to the Antonine School where the training took place. The exquisite nature and snow-covered mountains that surrounded us were thrilling enough to lift our spirits even higher.
We were welcomed by the principals of the schools who stayed with us the whole time and helped us make the necessary arrangements for the training.
At 10:00 a.m. our mission started.
The classes became crowded with students eager to learn the material that illustrated the characteristics of a leader, tips for successful public speaking, and guidelines for transforming conflict into opportunities for resolutions. We showed that a true leader doesn't have to be always involved in politics but rather demonstrate teamwork, cooperation and other traits in day-to-day behavior and actions.
Every part of the sessions was accompanied by inspirational and stimulating activities that aimed to bring out the best in the young girls and boys.
We, the trainers, had previously participated in a special training camp that prepared us for this special day. The training camp was organized by Sarah Bou Ajram, coordinator of Leadership and Civic Engagement at LAU, who provided and explained the material to me and the other trainers: Cynthia Nassif, Monica Seif, Naji Bayeh, Mira Wakim, Hala Badrachani, Cherine Obeid, Rana Jammal, Razan Niazi, Keghag Kidjekouchian, Mira Bittar, Sirine Komaty, Rayane Abbas, Fouad El Haddad, Jana Hassanieh, Mohammad Obeid, and Charbel El Khoury.
Building on that initial training, we were ready to implement the program by also adding to the sessions our own experiences, enthusiasm, and love for influencing the new generation.
According to Bou Ajram, the day was filled with positive energy from both the trainers and students. She was happy with the performance of the trainers and was thrilled with the discovery of new talents and leaders within the group.
"We truly appreciate your motivation and inspiration to bring what is new to the students of the District of Bsharri. This event left fruitful impressions on the students and professional attraction by the principals of the schools to the image of LAU," said Joseph Shebaya, director of Planning, Space Management and Renovations at LAU and chairman of Bishop Philippe Shebaya Foundation, which collaborated with LAU to bring the training program to Hasroun.
Would I consider our day to have been a successful one? Personally, I think this little encounter I had with one of the young students at the end of the training says it all: Joseph, a 12-year-old boy, came up to me and said: "I never thought I would ever wish to attend university when I grow up, but now things have changed." When I asked him how come he changed his mind by spending only one day with us, he answered: "Now I want to go to university to become like you, spread knowledge, and teach the youth, just the way you are doing."
Although I could have explained to him that his main goal should be to pursue a degree, I didn't want to disappoint him. So, I told him that the world is waiting for people like him.
Through its Youth Leadership Program, "OCE has already reached out to around 470 middle school students coming from 62 public and private schools in the regions of Tripoli, Sidon, Bsharri and its surroundings," says Elie Samia, OCE executive director.
Samia adds: "With the dedication of our staff and the commitment and competence of our student leaders, the program will be expanded in the coming months to cover more areas throughout Lebanon, including Baakline (in Chouf), the Bekaa and other areas."