Engineering faculty and students fly aircraft they built at LAU
Dr. Michel Khoury and his students successfully flew an unconventional plane, one of the models they built as part of aircraft design courses at LAU.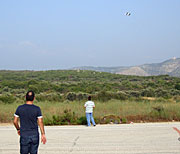 The unconventional plane flies successfully on July 9.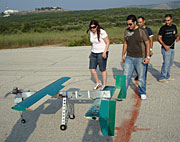 Dr. Michel Khoury (2nd from right) and his students happily approach the aircraft as it lands without fault.
View pictures illustrating aircraft design projects at LAU since 2005.
After taking his first flight at the age of 13, Dr. Michel Khoury, assistant professor in LAU's Mechanical and Industrial Engineering Department, fell in love with airplanes and began to build models. Khoury still builds them today, but on a larger scale.

Khoury, and a group of students, faculty and staff, flew one of the models they built at LAU — an unconventional aircraft — on July 9 at the Hamat Airport in the north of Lebanon. The aircraft took off, flew and landed perfectly.

The aircraft was originally built by students for the 2007 elective course Unconventional Aircraft Design taught by Khoury. The plane was modified in 2008 by a group of fourth-year engineering students for their final-year project and now further perfected by Khoury and Fida Majzoub, Richard Mouawad and Joseph Najem — three of the seniors who originally took the 2007 course.

"It gave us a more practical aspect of engineering. It was the first class where we went to the lab and we built [the aircraft] with our hands," says Mouawad.

Majzoub says problem solving is another skill they learned. "Theory is very different from manufacturing, especially when you are using cheaper materials," she explains.

Najem agrees that they faced difficulties in dealing with the machines in the workshop. "We had no background about these machines," he says. However, through the challenges they also learned a sense of teamwork.

This and similar flying projects have been piloted by Alexei Karam, senior IT support administrator, whose hobby of flying planes began at the age of 10. His practical know-how has contributed to the successful flights of this and previous aircrafts, he says, and he's happy to help.

After Khoury taught a conventional aircraft design course in 2005 — his first year teaching at LAU — that culminated in the successful flying of an airplane, he wanted to change the focus of the course to unconventional aircrafts.

Conventional airplanes are easy to construct because designs are readily available and easy to copy, explains Khoury. With unconventional aircrafts, however, there isn't anything to copy so designers need to get creative.

"You can't find unconventional aircraft designs. You can find aircraft design books just [about] regular aircrafts. Once you talk about unconventional aircrafts it becomes very challenging," he says.

Khoury says students learn more than just how to design an aircraft, such as methodology, a way of thinking, and viewing first-hand as to how engineering equations materialize in a lab. They also see their work take off — literally.

Besides the unconventional plane, the team made significant progress on a separate project on July 9.

The group successfully tested an unmanned solar-powered aircraft, a project Khoury; Dr. Barbar Akle, fellow assistant professor at the School of Engineering and Architecture; and some students began working on after receiving a grant from the University Research Council in May.

The entire design and manufacturing of this project has taken the team of professors and students about two months. "We know what to do now. [We are] quick," Khoury says.

The aircraft was tested without its solar panels this time, and is expected to make its appearance in full glory by the end of this month.

Khoury hopes to teach another installment of Unconventional Aircraft Design soon — perhaps this time involving an end-of-semester competition with other universities.