LAU alumni exhibit their books on campus
The first ever LAU Alumni Book Exhibition features publications by 36 graduates.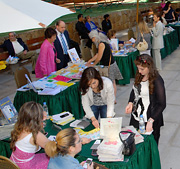 Thirty-six graduates exhibited their work at the first LAU Alumni Book Exhibit.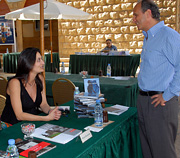 Abdallah Al Khal, director of LAU's Alumni Relations Office, chatting with photographer and LAU graduate Hayat Karanouh who exhibited a collection of her published photos.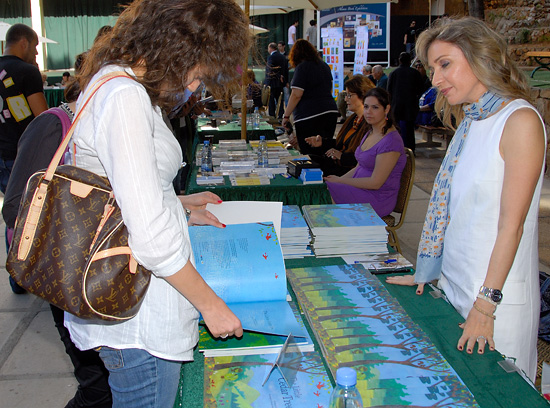 Salpi Simitian, a communication arts graduate, with her book The Little Cedar Tree.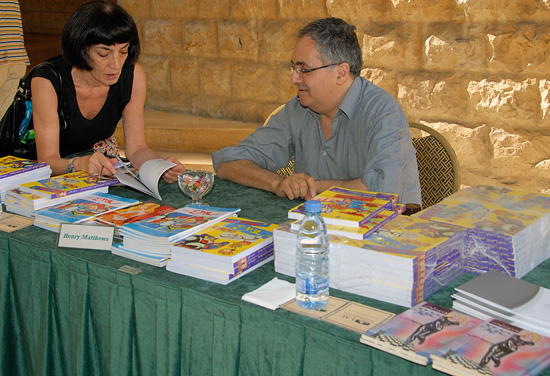 Fine arts graduate Henry Matthews with his collection of comic books.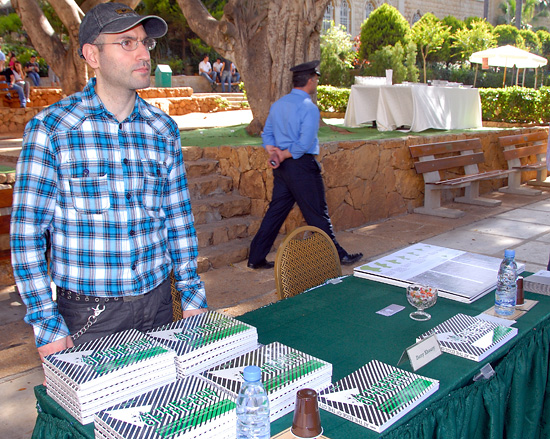 Danny Khoury, an LAU graphic design graduate, shows off his design on the book At the Edge of the City: Reinhabiting Public Space Toward the Recovery of Beirut's Horsh Al-Sanawbar.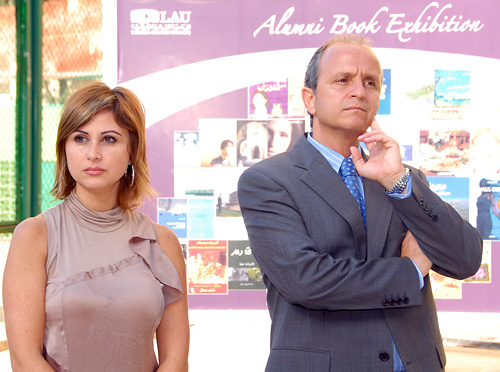 The director and assistant director of the Alumni Relations Office, Abdallah Al Khal and Ghada Majed, gave speeches at the book exhibition opening.
Click on any photo above to view all six images.
The first ever LAU Alumni Book Exhibition featured publications by 36 LAU graduates, who assembled outside the Safadi Fine Arts Building, Beirut campus, on May 24.
Visitors discovered everything from children's books to works of poetry, history and science.
Throughout the three-hour evening exhibition, passers-by who visited the table of Henry Matthews, a 1980 fine arts graduate, picked up a copy of his Encyclopedia of Lebanese Comic Books (2010) and reminisced about their childhood days reading comics. "You brought me back 30 years," said one man.
When asked how it made him feel to see the nostalgic reactions of so many visitors, Matthews said: "It's a bittersweet feeling. Bitter, because our history is being destroyed and we can't do anything about it."
Salpi Simitian, who received a B.A. in communication arts two years ago, recently published her first children's storybook, The Little Cedar Tree. She says it talks about history and the environment, but is neither a history nor environment book. Rather, it blends the two to somehow encourage engagement in and raise awareness of environmental issues.
"It encourages children to become better citizens," she said. After being confronted by a skeptic who asked her if she really believed children would understand the message, she responded: "If they love the book, it will drive them to action."
Danny Khoury, a 2002 graphic design graduate, exhibited At the Edge of the City: Reinhabiting Public Space Toward the Recovery of Beirut's Horsh Al-Sanawbar, edited by Fadi Shayya. Horsh Beirut is one of the last green public spaces in the city, though it has for a long time been closed off to the public. (Read more.)
Khoury wrote one chapter of the book, though his greatest contribution came in the form of design.
His designs were not created merely for aesthetic glamor, he explained, but rather contained symbolic elements. The cover, for example, gives an illusive impression. Why? "Because when we used to ask why Horsh Beirut is closed, they never gave us an answer," Khoury said. "It was always unclear."
The event marks the beginning of an annual effort by the Alumni Relations Office to promote the achievements of LAU graduates.
"This is your university and your second home," Abdallah Al Khal, Alumni Relations Office director, told the graduates in his opening speech.
In a follow-up address, Ghada Majed, the office's assistant director, said: "This event is important not just for the participants, but also for the students here who are witnessing today that no dream is impossible."
Check out this booklet for more information about the exhibitors.