Medical school dean appointed to national science academy, honored at Grand Serail
Dr. Kamal Badr was elected a member of the Académie des Sciences du Liban.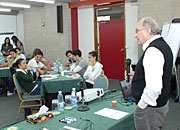 Dr. Kamal Badr, founding dean of LAU's School of Medicine, addresses students during a workshop on negotiation and communication skills.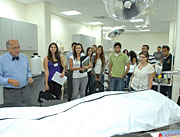 Badr familiarizes students with a human anatomy lab on the Byblos campus.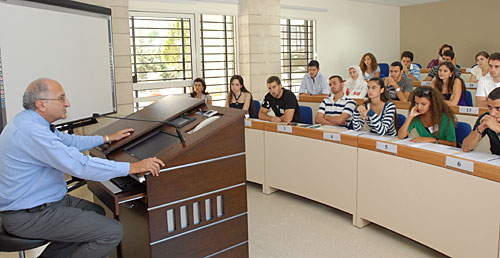 Badr during a student orientation meeting.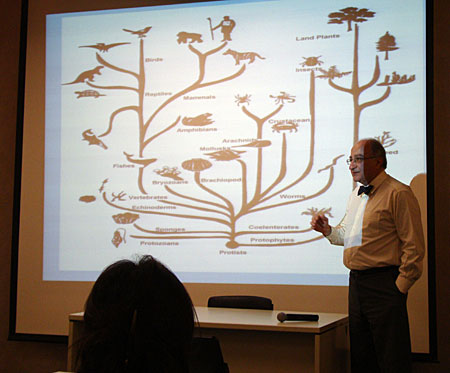 Badr talks about Charles Darwin's evolution theory from a medical perspective at a recent LAU event.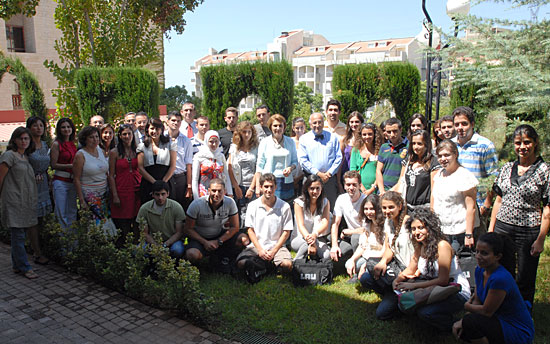 Badr with medical school students, faculty and staff.
Click on any photo above to view all five images
Dr. Kamal Badr, founding dean of the Gilbert and Rose-Marie Chagoury School of Medicine at LAU, was elected a member of the Académie des Sciences du Liban and officially inducted into the academy at a ceremony held in the Grand Serail government palace on November 5 by then Prime Minister Fouad Siniora, followed by a dinner hosted in honor of Dr. Badr and two other inductees.
Badr's election was announced in October, by the ASL president, Dr. Edgar Choueiri, who is a professor and director of the Engineering Physics Program at Princeton University.
Choueiri explained that Badr's election was based on his research accomplishments and his status as a leading scientist. He said that Badr's "intellectual vigor, wisdom, dedication and efficacy will be a great capital for the academy [ASL] to draw upon as it goes forward in its mission."
In addition to his role at LAU, Badr is an adjunct professor of medicine at the Johns Hopkins University, in Baltimore, Maryland. He joined LAU in December 2006, from the American University of Beirut, where he served as a professor and chairman of the Department of Internal Medicine for over six years.
In a message to the LAU community, LAU President Joseph G. Jabbra expressed great pride in Badr's election, saying that it brought "honor and recognition not only upon himself, but also upon the LAU School of Medicine which he leads — and upon our beloved university."
After news of his election, Badr issued a humble statement, discussing his work and thanking the community for its support. He said, "Since my return to Lebanon to chair the Department of Internal Medicine at AUB and then to serve as founding dean of our new School of Medicine at LAU, I have been drawn away from investigative medicine and have focused almost exclusively on teaching, academic medical administration, program and department building, and, now, participating in the creation of a new medical school."
He added: "To be recognized for my most modest contributions in science at this juncture comes as an unexpected reward and a humbling and moving experience, for which I am most grateful. It gives me much needed encouragement to continue to pursue the goal of creating, in Lebanon, institutions where high-caliber research can be pursued."
Earlier this year, leading space scientist, Dr. Charles Elachi — who was recently appointed chair of LAU's Board of Trustees — was also elected a member of ASL.
Upon his appointment in March 2009, ASL commended his work, stating: "Dr. Elachi is one of the most distinguished space scientists in the world today, and one of NASA's most successful leaders of the past two decades having led NASA-JPL, since 2001, during its most successful period of Mars exploration and spectacular robotic missions to asteroids, comets and the outer planets."