Students play their part for honest elections
LAU students volunteered as monitors of the country's municipal elections in May.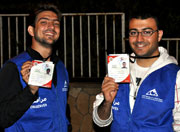 Wassim Kaakour (left) and Mahmoud Itani, LAU political science and international affairs students, show off their election monitoring badges.
About 40 LAU undergraduate political science and international affairs students volunteered to help monitor the nationwide municipal elections last month in an effort to enhance transparency in Lebanon's electoral process.
After participating in several intensive training workshops led by the Lebanese Association for Democratic Elections, a civil society organization, the students were ready to be scattered throughout the country over the four stages of voting, which took place on May 2, 9, 23 and 30 in Mount Lebanon and Beirut, the Bekaa, the South, and the North, respectively.
"You really feel like you're a part of the electoral process," says Wassim Kaakour, one of the student election monitors.
Students reported witnessing a number of irregularities during some of the elections, especially in hotly contested areas where money was allegedly distributed to voters, and members of certain groups were observed intimidating their rivals.
When the monitors spotted alleged violations, they were asked to report them immediately through SMS to LADE, which in turn posted the reports to a publicly accessible website. The reports could be investigated by Lebanon's Internal Security Forces and lead to arrests and lawsuits.
"After monitoring the election, I saw that they still need a lot of reforms," says Taline Al Assad, another election monitor who just graduated. "It didn't feel like a very democratic election."
Al Assad, who monitored the election in Mount Lebanon's town of Beit Mery, says corruption was not the main problem in her district. Rather, she observed the elections failed to inspire or arouse hope among the residents.
"People didn't care," she says. "They were there to vote for someone they know. People running in the election don't have much to offer. It was just families competing with each other."
Since its founding about 15 years ago, LADE has been a target of criticism by politicians and media organizations that disagree with the group's tactics, or accuse it of bias.
"You'll have politicians routinely attacking us because they are breaking the law and we mention it in our reports," says Ammar Abboud, the LADE trainer who conducted the workshops at LAU who is also a 1993 LAU graduate.
Last year, before the country's parliamentary elections, LADE recruited, trained then dispatched about 35 LAU students to polling stations across Lebanon.
Dr. Imad Salamey, LAU assistant professor of political science and international affairs, was the architect behind the partnership with LADE and coordinated student participation in the elections, which he insists was in response to student demands.
"Our students have been requesting that they become involved in community support and development, and civil society work is most suitable for these purposes," Salamey explains. "It's a way LAU can be part of the community at large and assist civil society groups for the country as a whole to become more democratic."
"This kind of work … builds the leadership skills of our students, both academically and practically," Salamey adds. "The students carried themselves with a great sense of civic duty and responsibility."