Architecture and design techniques in harmony with societal needs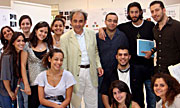 A group of students and faculty members at the exhibition.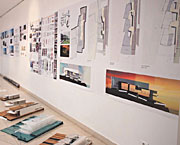 Student projects on display at the Sheikh Zayed Hall, Beirut Campus.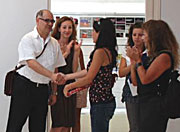 Dr. Elie Haddad, Architecture and Design associate professor and co-coordinator of the Foundation Program, gives an exhibition prize to Tamara Saab.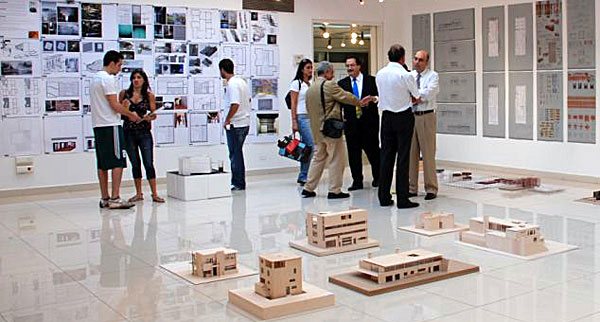 Attendees engage in discussion while admiring the students' projects.
Click on any photo above to view all four images
August 4, 2008—
Designing and constructing buildings and other structures may have long-lasting and meaningful impact if technology and aesthetics mesh with the surrounding environment and provide socially purposeful solutions. Architecture and Design seniors' final-year projects, on display in late July on the Beirut campus, demonstrated that the department is doing a good job in this regard.
Interior Architecture student Salim Khoury incorporated his love of music—he plays guitar and sings rock and blues music—into his project, by converting an abandoned building near Sodeco Square into an oriental music institute. Its five classrooms were designed towards accommodating the acoustics of traditional Oriental instruments. Khoury also transformed the building's courtyard, usually a private space in traditional Lebanese architecture, into a public stage.
"We need architecture more than oxygen in Lebanon," Khoury said. "We have a gorgeous city, and all you see is boxes, just clusters of boxes like Legos. But at least Legos have colors. Here it's concrete," he continued.
According to Khoury, "Beirut's architecture doesn't address its urban needs. Kids have no parks. Couples have nowhere to stroll. Students don't have a contemporary public library."
"We are in need of thinkers—architects who propose creative ideas" that respond to the needs of the city and its residents, he added.
The projects, and architecture in general, should serve a public and social function, explained Architecture and Design Chairman Maroun Daccache. In order to equip students with the necessary skills to achieve this, the department offers fourth-year courses that address the relation between architecture and urban configuration—how the city affects the process of architectural design.
In addition, the department's policy, Daccache said, calls for the production of final-year projects on social and public spaces in the country. Every year, students work in collaboration with different municipalities. In the past, projects have tackled Monot Street, El-Mina (read previous story), and Byblos.
This year, Byblos Architecture student Rowina Armale rehabilitated and added an extension to a Jounieh building, that had been abandoned during the Civil War, to make it accessible for the disabled and elderly. The designs—which are owned by LAU but may actually be implemented by the Municipality of Jounieh in the future—came after Armale and two classmates spoke to municipal officials and conducted focus group research with the neighbors.
Interior Architecture major Tamara Saab converted an old, damaged building in Gemmayze into a Turkish bath. She broke with the Roman concept of having to move through the bath in a certain order. She described it as "more like a maze than a circle," that gives visitors more freedom when moving through the different compartments.
Saab was one of two students who won prizes for getting the highest grades at the exhibition. The jurors liked that she added to and modified the existing structure without breaking down any of the walls—which would have been expensive.
The other award winner was Jemma-Elizabeth Chidiac, who, as an Architecture student, received a one-year membership to the Order of Engineers.