"Leaping into the future": LAU's Cisco center celebrates fifth anniversary
LAU conference marks an enduring partnership with information and communication technology giant Cisco.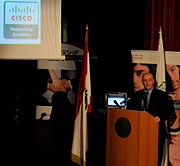 Acting CATC director Bassam Moujabber introduces speakers.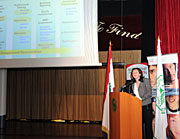 Salam Yamout explains the Cisco-affiliated Partnership for Lebanon program.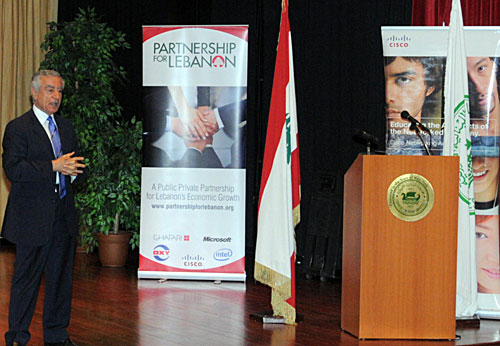 LAU President Joseph Jabbra commends Cisco for its commitment to corporate responsibility.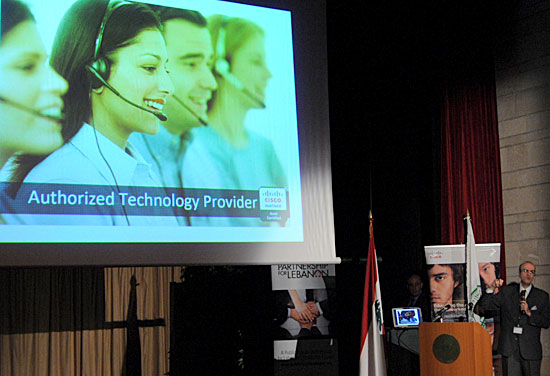 Fadi Medlej from Data Consult outlines the importance of his company's Cisco-authorized "expertise and dedication to technology."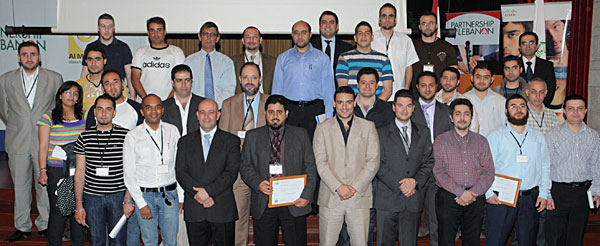 A group picture of conference participants and organizers.
Click on any photo above to view all five images
For LAU computer engineering graduate Challita Youssef, the six-month internship last year at the headquarters of IT giant Cisco in San Jose, California, was "a once in a lifetime opportunity."

Now accredited with an internationally renowned CCIE networking certification, and employed by Data Consult, one of Cisco's regional partners, Youssef is looking forward to a bright professional future.

He is among a handful of young professionals who have directly benefited from the close relationship between LAU and Cisco.

The company's commitment to capacity development is epitomized by the Cisco Academy Training Centers, of which LAU boasts the longest standing in the region.

These centers represent the highest level of a three-tiered training model that provides ICT training to students, local academy instructors and regional academy trainers.

The fifth anniversary of LAU's CATC was marked with a conference hosted by LAU's School of Engineering and Architecture April 25-26, on the Byblos campus.

Convened under the theme "Education and the Internet: Leaping into the Future," the event gathered over 150 participants from countries around the world, including Jordan, UAE, Iraq, South Africa and Pakistan, to discuss and share experiences on various issues related to information and communication technology.

In his welcoming address, LAU President Joseph Jabbra praised Cisco for "its commitment to social responsibility and corporate citizenship," adding "Its products have influenced education, economic development and communication across the world."

Jabbra said that Cisco's proactive commitments were illustrated by the presence of its Networking Academies in 160 countries that provide ICT training to some 340,000 people worldwide.

Such admiration was echoed by Bassam Moujabber, acting CATC director. "Cisco is not just any company," he explained. "They have a vision for everything."

He added that LAU was continuing its pioneering role as a regional CATC by being upgraded to a new status, Cisco Certified Network Professional Regional Academy, meaning it will offer programs that build on the foundational CCNA courses with more complex network configurations, diagnosis and troubleshooting.

Moujabber also pointed out that the LAU conference was this year's best-attended one in the region.

The event covered a wide range of topics. Certain presentations broached general ICT-related issues, including women in IT, tools for blogging and workforce development.

Other sessions highlighted the many ways in which Cisco and its regional partners, including the two microfinance institutions Ameen and Al Majmoua, are contributing to economic growth in Lebanon, by focusing on ICT development in rural communities and offering microcredits.

Salam Yamout, a representative of Partnership for Lebanon, a Cisco regional affiliate, said that her team was active on several fronts to achieve sustainable economic development in Lebanon.

The group has been encouraging public-private partnerships, lobbying the Ministry of Communications on the need for broadband in the country, and working with the Ministry of Education to start the first educational network in Lebanon with 50 schools.

The group has also been instrumental in organizing internships for 80 fresh graduates from Lebanese universities at the Cisco offices in San Jose and Lebanon.

As a beneficiary of that project, and perhaps the Cisco work ethic more generally, Youssef considers the relationship between LAU, Cisco and its regional partners to be more than just about personal career development.

"One of the objectives of the Partnership for Lebanon program is to encourage young engineers like me to come back to Lebanon and make Lebanon benefit from the experience we got in the U.S.," he said.

This, he added, is a key example of how empowering the Lebanese youth can contribute to the development of the country.

---
Read a
previous story on the appointment of

LAU

as

CATC

in 2004
.