Pulling women into politics
Former U.S. ambassador to Austria and lecturer of public policy at Harvard University Swanee Hunt encourages women to participate in politics at an LAU lecture.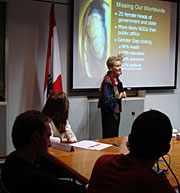 Swanee Hunt, former U.S. ambassador to Austria and lecturer of public policy at Harvard University's Kennedy School of Government, presents an overview of the disproportionate rates of women in politics worldwide.
Former U.S. Ambassador to Austria Swanee Hunt, who is a lecturer in public policy at Harvard University's Kennedy School of Government, called on women to be more actively involved in politics and run for public office, during a lecture organized by LAU's Institute for Women's Studies in the Arab World in cooperation with the U.S. Embassy in Lebanon on December 1 at LAU Beirut.
Hunt began the lecture, entitled "Political Progress of Women: Breaking Traditional Boundaries," by citing current statistics that show regional trends in the number of female officeholders in the national assemblies of different countries and areas. The Nordic region ranked the highest in terms of female inclusion with an average of 42.5 percent, while the Middle East was among the lowest-ranked, with some countries at or near 0 percent.
"Many of the women who are in politics now got there with the help of a political father, brother, etc.," she said. "That extra support is not just helpful, but often necessary for them to get over the obstacles."
Hunt, who is also the founding director of the Women and Public Policy Program at Harvard, revealed that the United States, to the surprise of many, was among the countries with the lowest figures of female officeholders, standing at just 17 percent of members of the U.S. Congress.
"Do not hold up the United States as a model" in women's participation in politics, she said.
At 56 percent, Rwanda, according to Hunt, ranks the highest in terms of female inclusion, and is the only country in the world with more female representatives in the government than male.
In countries with low female participation in politics such as Kyrgyzstan and South Korea, women tend to be overrepresented as heads of NGOs, Hunt said.
She asked the audience to provide possible explanations for this trend. Some responded by suggesting that women feel like they could contribute more by working with NGOs, or that women in those countries do not want to participate in political corruption.
To clean up government corruption, women in politics should collaborate with women in NGOs to tackle those challenges, Hunt said, adding that "social change happens when you have outside and inside pressures."
Hunt, who said she spent eight years in a theological seminary, also dismissed a popular notion in the West that the lack of women's participation in politics in the Arab world is necessarily due to Islam.
The lecture transformed into an open discussion between the speaker and audience members after a question-and-answer period.
Wrapping up the lecture, Hunt told the audience that while Lebanon and much of the world face challenges to get women into leadership roles, there remain strategies for improvement on that front.
"It does make a difference … if you have a large percentage of women [in leadership]," she said. "You end up with different laws, a different culture, and there are strategies you can use to do it."
Hunt presented a similar lecture at LAU last year.