About
First there was a devastating political and economic crisis in Lebanon. Students rose to the occasion by demonstrating their exceptional civic duty and commitment to bettering the country, participating in peaceful demonstrations.
Next, there was a global COVID-19 pandemic. Students quickly adapted, switching to online learning and continuing their much-needed education – their only hope for a solid future in this uncertain and unpredictable world.
Then – when we thought it could not get any worse – a devastating explosion rocked our capital, taking the lives of 200+ people, and injuring around 6,500 others. It has also left hundreds of thousands homeless. Students mobilized, setting up aid tents in the areas most affected, and volunteered to help those on the ground.
While our Lebanese American University (LAU) students make us proud by proving their immense resilience and perseverance in times of tremendous difficulty, we know the reality is that they are hurting and are in need of help.
Students' parents have lost their homes, jobs, been laid off, or found themselves grappling with a salary that no longer meets their most basic needs as a result of a collapsing national currency. In fact, more than 70 percent of our 8,500 students now have demonstrated new financial need. Many have even considered dropping out of LAU.
Losing a generation of youth isn't an option, nor will LAU fall short on its motto of not yielding. Keeping LAU students enrolled is of utmost importance to the institution, Lebanon, and the world if we want to see any prosperity and peace in the future.
The graph below highlights the steep decline in the tuition-paying ability of families in recent years. This does not reflect today's situation among students, which is much worse.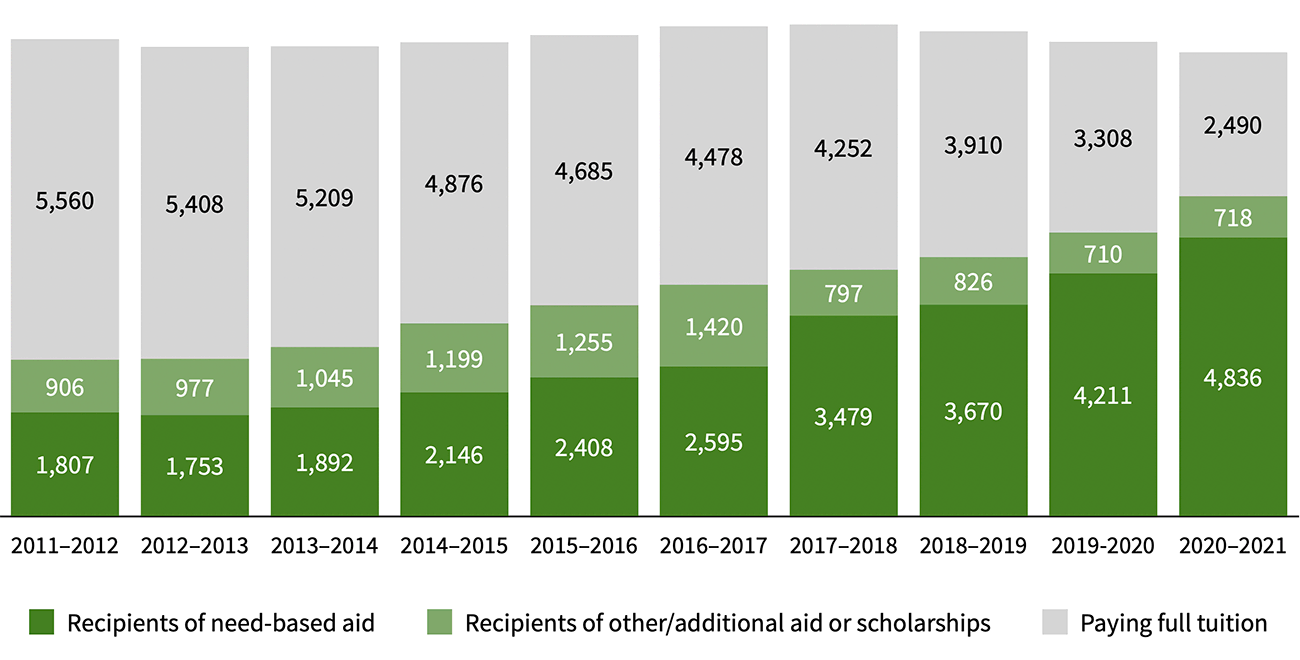 As a result, the institution went to extraordinary measures to strip its operating budget, dip into its endowment, defer capital projects, implement a hiring freeze, halt salary increases, and launch an Emergency Financial Aid Fund. In the academic year 2020–2021, LAU provided more than $72 million in financial aid and scholarships to support its students. The need for the current academic year is higher.
LAU has stretched itself to its absolute limit. Yet, with a new academic year right around the corner, and growing need among our students, we cannot give up on our youth. We need your support to continue to provide students with crucial financial aid so they can enjoy the education they dream of and deserve.
Be our students' and our nation's hero. Make a gift now.
With so much at stake, we aim to raise funds for 250 partial scholarships. Each partial scholarship represents $10,000 — covering, on average, half of a student's annual tuition. This vital support would go to those most deserving, with demonstrated financial need and who are at risk of dropping out of LAU, even despite previously received help.

There are hundreds of LAU students with their education, and future, at risk. Making a gift of any amount will help us give these students a chance. Whether it's a donation of $10 (LL 15,000) or $100 (LL 150,000), we will put it to use towards our scholarship goal. Your donation, whatever its size, will make a major difference in our students' lives.