LAU's School of Pharmacy enters an exciting new phase, launching a student society and opening opportunities to students beyond graduation.
The Center for Lebanese Heritage examines its national treasure: amber.
Short of adequate human rights protection, and repeatedly facing discrimination and abuse by their employers, some foreign laborers are slowly but surely making the city their own. Find out how.
Fall 2013
Last day for withdrawal (WP/WF) from courses for fall

Dec 6, 2013

Holiday: Christmas and New Year

Dec 24, 2013–Jan 6, 2014

Classes resume on January 7 at 8:00 a.m.

 

Holiday: Armenian Christmas

Jan 6, 2014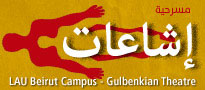 Fall Major Production: "Rumors"
Dec 11–18, 2013 8:30 PM
Gulbenkian Theatre