The first and only such center in the region will help people from across Lebanon and from all backgrounds.
Alumni lecture focuses on communication and adaptation as keys to progress in the workplace.
Four years after the launch of the BS in Bioinformatics at LAU, its graduates are already reaping its rewards.
Current and Upcoming Conferences
Latest LAU Magazine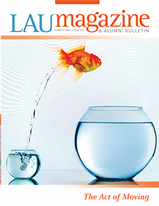 Winter 2018