Director of Athletics at LAU Byblos Joe Moujaes will lead Lebanon's senior men's basketball team in the upcoming West Asia tournament.
Study led by Pierre Zalloua reveals information about the isolation and migratory patterns of populations from Southwest Asia during and after the last glacial period.
The university provides grant opportunities and proposal writing training in a bid to bolster funded research for its faculty.
Upcoming conferences
Latest LAU Magazine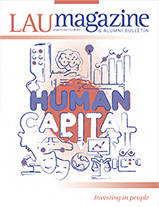 Fall 2016