The Nutrition Program invites speakers from different backgrounds to share their experiences in interprofessional health work.
Skills acquired in an elective course and an entrepreneurial spirit help Wissam Sinno clinch a deal with U.S.-based company.
Residents and clinicians from five medical schools in Lebanon gather at LAU Medical Center – Rizk Hospital to present and discuss case studies of rare skin conditions.
Current and Upcoming Conferences
Latest LAU Magazine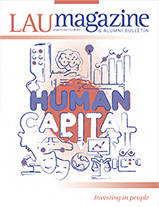 Fall 2016