Our mission is to offer the largest cross-section of Lebanese a higher education that is affordable in the current economic situation.

Dr. Michel E. Mawad, President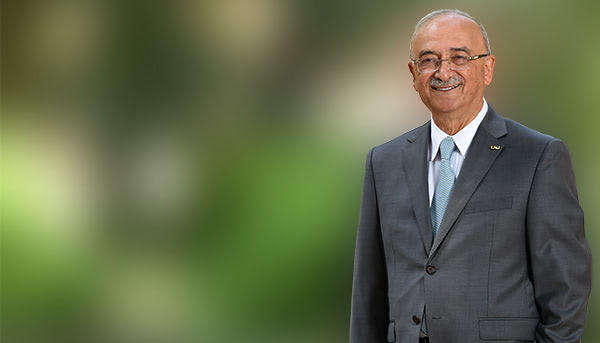 Here at LAU, we want to ensure that our students, faculty and staff are empowered to pursue their passions, advance their potential and shape their futures as they see fit. We've worked hard to promote a culture of accountability and responsiveness to the needs of others. That is why we foster open channels, cross-functional communications, and faculty-staff alignment on our strategic objectives.
Advancing LAU's mission and vision
In my role as president of the Lebanese American University, I take every opportunity to advance our mission. In everything we do, we espouse a commitment to academic excellence, student centeredness, civic engagement, the advancement of scholarship, the education of the whole person, and the formation of leaders in a diverse world.
As an academic and community leader within Lebanon and the region, we support diversity, innovation and dynamism. And we cannot lead without dedication to and inspiration from our fantastic community. It is what we work for every day, and the future upon which we're growing.
It is through our shared values that we not only shape the lives and futures of our students, but of the broader community.
Advancing LAU's strategic plan and capital expansion plan
In 2017, we released our third Strategic Plan (SPIII) as a university. It was part of a project to build upon the incredible success we've achieved as an institution over the decades and to grow even greater by building our intellectual capital, deploying an integrated program of pedagogical innovation, and transforming LAU into a university without borders. We've made great progress since SPIII's release, hiring dozens of new full-time faculty from across the world, increasing the quality and quantity of our research output, and creating new partnerships with institutions across the globe. We are also executing on an integrated plan for the Gilbert & Rose-Marie Chagoury School of Medicine and the LAU Medical Center - Rizk Hospital, to expand our health sciences education and to increase our capabilities through more capacity and establishment of medical expertise areas.
We are also working to create a sustainable financial basis upon which to keep growing in the decades to come. This dictates that we continue to seek the support of individuals and grant-providing organizations closely aligned with our education mission, to diversify our revenue base, to encourage research-supporting initiatives and to increase the collaborations with industry on joint programs.
News and Updates