The Seven Schools
Adnan Kassar School of Business
With its steadfast commitment to academic excellence and the advancement of scholarship the Adnan Kassar School of Business (AKSOB) garners more accreditations and leads in subject rankings nationally.
For the second year in a row, AKSOB placed at No.1 in Lebanon in the 2022 Times Higher Education (THE) World University Rankings by Subject: Business and Economics, thanks to its rigorous programs in business management, accounting, finance and economics. The school also ranked No. 4 in the Arab region, a considerable feat that demonstrates its wide-reaching positioning in the area.
In March 2021, the Department of Hospitality and Tourism Management (HTM) at AKSOB earned the Accreditation Commission for Programs in Hospitality Administration (ACPHA), setting a precedent in Lebanon and the region. This reflects the quality of its course offerings and caliber of its faculty, academic staff, and students.
And again, in June 2021, AKSOB was reaccredited by the Association to Advance Collegiate Schools of Business (AACSB). Following the virtual visit for the continuous improvement review (CIR) in May, AKSOB ensured a full five-year accreditation (2021-2026) based on the newly amended 2020 business accreditation standards covering the areas of strategic management and innovation, learner success and thought leadership, engagement, and societal impact.
Furthermore, AKSOB placed first in the top 25 percent Institutions and Economists in Lebanon, according to Research Papers in Economics (RePEc), reflecting the quality of its research and the caliber of its faculty in the field of economics.
AKSOB, LAU Consult and Continuing Education (LAU CE) partnered with Sanofi, a global pharmaceutical company, on the Sanofi Development Program (SDP) offering the company's sales and medical representatives, and field, marketing, and key account managers in the Levant (Lebanon, Jordan, Iraq, and Palestine) custom-made three-year training per business unit and per market. The program is a first for Sanofi in the Levant.
As part of the university's larger strategic plan to extend its footprint beyond Lebanon and the region and export its programs and expertise, AKSOB completed the groundwork to launch an online master's degree program, the MBA in Global Business Administration in fall 2021.
Assistant Professor of Marketing Omar Itani received the Wessex press Best Paper Award for "The Impact of Salesperson Moral Identity Centrality on Internal and External Customers" at the 2020 National Conference in Sales Management.
In a co-authored study, published in Tourism Management, Assistant Professor of Marketing Omar Itani provided empirical evidence on how attraction sites can respond to and recover from the unprecedented crisis caused by the pandemic. "Light at the end of the tunnel" examined the expected effect of COVID-19-induced social distancing on consumers' intent to use virtual reality (VR) vs. in person-based site tours during and post-COVID-19 while offering the tourism industry insights on how best to operate under the circumstances.
A research study by Assistant Professor of Neuromarketing and Business Communications at AKSOB Dunia Harajli and Assistant Professor of Psychology in the Department of Social Sciences Myriam El Khoury Malhame explained how people's emotions and attitudes were explicitly and implicitly impacted after the August 4 Beirut blast. To do so, and instead of the traditional trauma-focused scales and the homogenized demographics such as age, gender or income, the researchers used the reliable neuro-scientific technology, RTT (Response Time Testing) - a smart test that measures how people respond to Yes/No questions, and records the speed and rhythm with which they touch the screen - as an indicator of attitude strength and behavioral intention.
AKSOB students continue to reap the rewards of a first-rate education, as two distinguished graduates earn full scholarships to pursue their PhDs in renowned universities. Giorgio Maaraoui (MA '20) is pursuing a second master's degree followed by a PhD in economics at the University of Manchester, England, and James Raad (MBA '18) began his second year in hospitality and tourism management at Virginia Polytechnic Institute and State University, US.
Health Sciences Schools
Alice Ramez Chagoury School of Nursing
As LAU nurses remained steadfast in the battle against COVID-19, administering some of the first jabs of the vaccine nationwide, and testing for the virus at and beyond LAU medical centers, the Alice Ramez Chagoury School of Nursing (ARCSON) continued to shine on the academic level.
In fall 2020, LAU was ranked no. 2 in Lebanon in Clinical and Health education by the 2021 Times Higher Education Subject Rankings, a first for the university, and a mark of excellence for its health sciences schools, including ARCSON.
Dr. Costantine Daher, ARCSON's interim dean, co-authored an interdisciplinary study by a team of LAU faculty and students titled "In vivo and in vitro anti-inflammatory activity evaluation of Lebanese Cannabis sativa L. ssp. indica (Lam.)" which published in the Journal of Ethnopharmacology. The study revealed that Lebanese Cannabis oil extract (COE) possesses therapeutic properties in the treatment of inflammatory diseases in laboratory animal models.
Gilbert and Rose-Marie Chagoury School of Medicine
Despite an ailing healthcare sector and a brain drain of physicians from the country, the school and its constituents have received well-earned recognition from prestigious international and local entities.
In November 2020, LAU President Michel E. Mawad, along with three other LAU faculty and deans, was ranked among the top 2 percent scientists worldwide in Nuclear Medicine and Medical Imaging, in a study published by PLOS Biology. His research on lymphatic and cancer imaging has opened doors to using molecular imaging techniques in the diagnosis and possible treatment of several disease conditions such as cancer, impaired lymphatic drainage and degenerative disorders.
In March 2021, the LAU Clinical Simulation Center was featured in the Society for Simulation in Europe newsletter, highlighting the importance of acquiring knowledge and expertise in simulation-based education. It also recognized LAU for having delivered the first virtual OSCEs in Lebanon during the lockdown.
More than 60 medical students donned their white coats and stethoscopes to mark their transition to clinical wards, as their families and friends followed a live stream of the event.
In October 2021, based on a virtual meeting, LAU's Gilbert and Rose-Marie Chagoury School of Medicine was granted a two-year provisional accreditation for its MD program from the Turkish Association for Evaluation and Accreditation of Medical Education Programs (TEPDAD), an agency recognized by the World Federation for Medical Education (WFME).
Where it all Happens: LAU Medical Centers
In the wake of the August 4 Beirut explosion and faced with the country's dire economic conditions, the LAU medical centers soldiered on thanks to the generosity of a number of donors.
Lebanese American philanthropists sprang to action in the hours following the Beirut blast. Among them were Manal Saab and her daughter Rashal Baz Zureikat, who, through the American Task Force for Lebanon and other NGOs, managed to deliver more than $18 million worth of medical and pharmaceutical equipment and supplies to five of Lebanon's largest hospitals, including the LAU Medical Center-Rizk Hospital.
As Lebanon struggled to cope with a COVID surge, LAU launched a vaccination fundraising campaign in February 2021 to allow the university to secure vaccines for both its immediate community and the wider Lebanese population. Joining a consortium of university medical centers, LAU launched a six-week crowdfunding initiative - the LAU Vaccination & COVID-19 Response Campaign - to raise $150,000 as part of a broader $2.25 million campaign to secure vaccines for its students, faculty, and staff, as well as the greater community.
In parallel, the LAU Medical Center-Rizk Hospital - which had reached full capacity - set up additional temporary units to receive the overflow of infected patients, and prepared the COVID-19 Vaccination Village where it had started administering vaccines supplied by the Ministry of Public Health (MoPH).
At the same time, the LAU Mobile Clinic embarked on vaccinating communities in remote areas of Lebanon.
School of Pharmacy
In 2020, LAU pharmacists sequenced and analyzed genomes of SARS-CoV-2 strains in Lebanon, paving the way for more firsts, ground-breaking research and recognitions for the school throughout the academic year.
In October 2020, a team at LAU's School of Pharmacy (SOP) in collaboration with Human Link successfully sequenced and analyzed the full-length genomes of four severe acute respiratory syndrome coronavirus 2 (SARS-CoV-2) strains isolated in Lebanon. This was one of three interconnecting and timely projects being spearheaded at LAU by Associate Professor of Pharmacy Jad Abdallah along with SOP research faculty and postdoctoral fellow Walid Abi Habib. For the two other projects, one investigates the seroprevalence (a survey that uses blood tests to estimate the percentage of people in a population who have antibodies against the virus) of the SARS-CoV-2 antibodies in the Lebanese population, and the other examines coronavirus infections in animals.
An interdisciplinary study by a team of LAU faculty and students titled "In vivo and in vitro anti-inflammatory activity evaluation of Lebanese Cannabis sativa L. ssp. indica (Lam.)" published in the Journal of Ethnopharmacology has revealed that Lebanese Cannabis oil extract (COE) possesses therapeutic properties in the treatment of inflammatory diseases in laboratory animal models. Spearheaded by Dr. Mohammad Mroueh, chair of the Pharmaceutical Sciences Department, the study was an interdisciplinary collaboration between Interim Dean at the school of nursing Costantine Daher, Associate Professor of Pharmacology at the school of medicine Wissam Faour, Dr. Wassim Shebaby, research faculty and postdoctoral research fellow in SOP's Pharmaceutical Science Department and SoAS Assistant Dean Robin Taleb. The study was also a learning opportunity that involved undergraduate students Edwin Chrabieh and Marissa El Hage, and graduate students Jane Saliba and Jana Ismail, under the faculty's direct supervision.
Dr. Mroueh also took part in another interdisciplinary study by a team of LAU faculty, students and postdocs titled "Derivatization and combination therapy of COVID-19 therapeutic agents" and published by Elsevier, that reviewed the top 10 promising drugs against SARS-CoV-2, proposing to change their structure into novel drugs that may display higher toxicity against the virus.
In June 2021 - just under two years since its launch - the Postgraduate Year 1 (PGY1) Pharmacy Residency received a four-year accreditation from the American Society of Health-System Pharmacists, placing it on par with equivalent programs in the US.
School of Architecture and Design
With in-person exhibits and events mostly suspended, creativity and craftsmanship from the School of Architecture of Design (SArD) endured and created new means of expression - and went on to shine across local, regional, and international platforms.
After a decade of research, Associate Professor and alumna Yasmine Nachabe Taan (BA '92) published a book on women photographers in the region, Reading Marie al-Khazen's Photographs. Through it, she offers an interdisciplinary reading of al-Khazen's photographs "that draws from scholarly writings on photography in the Middle East, post-colonial representation, and gender studies," as well as material gathered from a series of interviews she conducted with members of al-Khazen's family between 2011 and 2013.
Shortly after Dr. Michel E. Mawad assumed the LAU presidency, Honorary Chairman of the Fashion Design Program at LAU and renowned designer Elie Saab affirmed his solid partnership with the university, during a visit in the presence of Dean Elie Haddad, where several initiatives were discussed to fortify the program's leading position in Lebanon and the region.
As graphic design students reckoned with immense changes on the local and global level, they crafted and aggregated different forms of creative expression. The outcome of their work was launched through a virtual exhibit themed Alter, a reflection on their innovative, unique journeys, as they had to adapt across the board.
In March 2021, SArD students dominated the student competition at the 2021 Dubai Lynx Festival, for the second consecutive year. Senior graphic design students Jad Zock and Ghiwa Abi Khalil snatched the first and third spots respectively, while three others - Gaelle Majdalani, Nabil Houari and Rita Azar - were shortlisted among a total of five, outshining hundreds of student entries from across the region.
In the aftermath of the Beirut August 4 Explosion, two SArD faculty members Sandra Richani and Nada Borgi partnered with architect Etienne Bastormagi to create Let's Play, an initiative to rebuild damaged school playgrounds in Beirut. They recruited volunteers including current and former LAU architecture students, whose contributions had been instrumental to the success of the project.
A selection of final projects from the architecture class of 2020 were exhibited at the European Cultural Center, titled Time Space Existence, which opened in May and ran in parallel to the Venice Biennale until November 2021. The projects adopted varied approaches, producing differing interpretations of the theme - "How will we live together?" - as they explored the problematics posed by living in a diverse Lebanon.
As with many fashion schools around the world, a live graduate runway show could not be held in 2021 due to the pandemic. Instead, the school opted for a fashion film, Rise, to spotlight the work of the Bachelor of Fine Arts in Fashion Design's fifth cohort. Overseen by Program Director Silia Abou Arbid and directed by Missak HajiAvedikian, the film doubled as a springboard for the 11 graduates into the world of fashion through striking online presence.
School of Arts and Sciences
AY2020-2021 was a year of transition for the School of Arts and Sciences (SoAS) as it introduced a new structure that consolidated its vision for multi-disciplinary pedagogy and launched a number of academic partnerships, while its faculty garnered awards and grants for impactful research, continued its tradition of social outreach activities, and introduced initiatives allowing undergraduate students to hone their research skills under direct faculty supervision.
In the aftermath of the August 4 Beirut port explosion, acclaimed director and Associate Professor of Theater Lina Abyad launched an initiative to help the theater community impacted by the blast. She collaborated with renowned Lebanese actors and British playwrights in an online play - Whispers-Hamasat - to raise funds for the restoration of Beirut's destroyed theaters and support artists, directors and producers who have suffered financial and personal losses due to the explosion.
In the same month, a team of LAU faculty, students and postdocs published a study in the Q1 Journal Drug Discovery Today, in which they reviewed the top 10 promising drugs against the SARS-CoV-2. The study reports on "the structural design of several analogues of current COVID-19 repurposed drugs." The cross-school team involved Dr. Robin Taleb, SoAS assistant dean, Dr. Mohammad Mroueh, chair of the Pharmaceutical Sciences Department in the School of Pharmacy, Dr. Elias Akoury, assistant professor of chemistry at SoAS, Dr. Sally El Kantar and Dr. Bilal Nehmeh, research faculty members at SoAS, and LAU chemistry students Philipe Saad, Gabie Mitri and Celine Estephan.
Based on a study conducted at LAU during an Inquiry-Oriented Differential Equations (IODE) course - a form of active learning - Assistant Dean at SoAS Samer Habre published "Inquiry-oriented differential equations: a guided journey of learning" in Teaching Mathematics and its Applications: An International Journal of the IMA by Oxford University Press in December 2020. The paper shows how an active learning method led students to reinvent mathematical concepts, effectively grasping new knowledge without the use of textbooks and lectures.
In the same month, LAU Associate Professor of Arabic Literature Nada Saab and AUB Professor of English Robert Myers won first prize of the 2020 Sheikh Hamad Translation Award for their book Sentence to Hope, the first major English language collection of works by prominent Syrian playwright Sa'dallah Wannous. The book was nominated for the prize by Yale University Press.
A research study by then Associate Professor of Clinical Psychology Ian Grey, assistant professors of clinical psychology Dr. Pia Tohme and Dr. Rudy Abi-Habib, and undergraduate student in psychology, Ahmed El Saneh, on "The role of perceived social support on depression and sleep during the COVID-19 pandemic" was published in Psychiatry Research. The paper associated lack of social support with higher risks for psychological health issues during self-isolation.
A review article by natural sciences graduate students Elie Abi Khalil, Mohammad Farran and Nada El Baba under the supervision of Professor of Biology Mirvat El-Sibai and Head of Infectious Diseases Rola Husni-Samaha debunked the rhetoric against COVID-19 vaccines. Using scientific evidence and historical facts, the paper responds to false information that has been circulating among the public.
Moving from science to language, Senior Instructor of English Paula Abboud Habre and Instructor of English Hala Daouk won a grant from the International Writing Centers Association (IWCA) in January 2021, for a research project to create a bilingual research database for writing centers in the Middle East and North Africa region. The grant includes faculty members from University of Texas at Arlington, King Saud University, the American University of Kuwait, and Texas A&M in Qatar.
Dr. Akoury also formed a research team of LAU undergraduate students to characterize and mitigate plastic pollution propagating through sea water in the Mediterranean. The project focuses on the Palm Islands Natural Reserves in North Lebanon and the nearby Tripoli shore.
In other research highlights, a study, published in the Journal of Ethnopharmacology, revealed that Lebanese Cannabis oil extract (COE) possesses therapeutic properties in the treatment of inflammatory diseases in laboratory animal models. The study - "In vivo and in vitro anti-inflammatory activity evaluation of Lebanese Cannabis sativa L. ssp. indica (Lam.)" - an interdisciplinary collaboration between faculty at SoAS, the School of Pharmacy and the Gilbert and Rose-Marie Chagoury School of Medicine - found that COE reduced inflammation and edema in chronic paw edema of Sprague Dawley rats, further supporting its possible therapeutic properties in certain inflammatory disorders.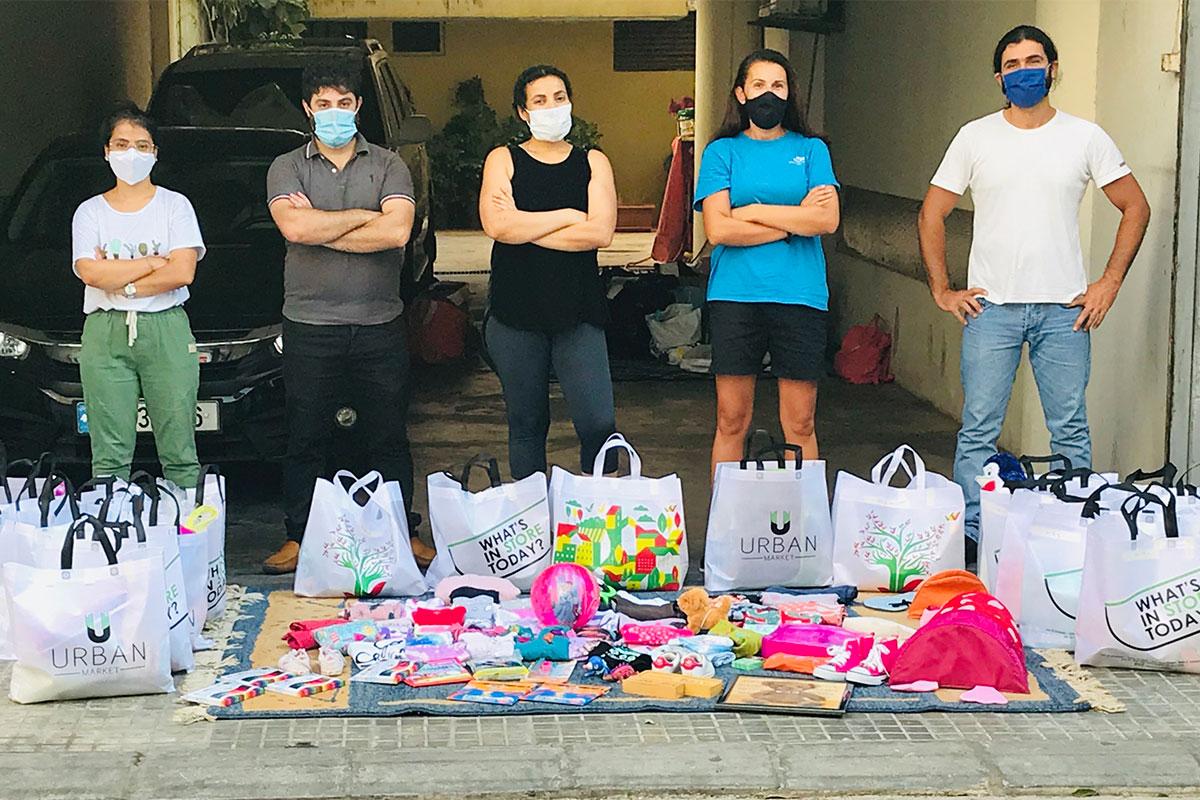 Months after the August 4 Beirut port explosion, families and individuals impacted by the blast were still suffering under a crushing economy. Their struggle prompted then Assistant Professor of Music Seba Ali to relaunch a relief aid campaign in March 2021 to provide them with direct support. Originally initiated directly after the blast, the massive relief campaign involved a host of volunteers - from LAU students, alumni, faculty, staff and the broader community - recruited by Dr. Ali. In total, the relief mission raised more than 300 million Lebanese pounds that went toward assisting and protecting hundreds of families. Twenty-seven volunteers conducted 53 on-the-ground missions and provided support to hundreds of families, especially in marginalized and impoverished areas around ground zero.
In line with LAU's Third Strategic Plan, and its vision to support undergraduate interdisciplinary research, the School of Arts and Sciences launched its signature one-year Undergraduate Research and Discovery Program (URaD) in April 2021 for its junior students from all majors. The competitive program allows students to conduct research and/or artistic projects under the direct supervision of a faculty mentor. URaD is designed to push the young scholars to take risks in their research, knowing that any outcome would not affect the course of their education.
In May 2021, Dr. Sima Tokajian, SoAS professor of microbial genomics, was selected for her work on sequencing and revealing circulating variants to represent Lebanon at the United Nations technical briefing on COVID-19 Genome Sequencing. The panel was organized by the permanent missions of the UK and Lebanon to the UN with the World Health Organization.
The National Institutes of Health (NIH) granted LAU a $233,000 grant in June 2021 for a joint research project with the American University of Beirut (AUB) and the Medical College of Wisconsin (MCW) in the US to create a registry in Lebanon identifying risk determinants that contribute to the development of Type 2 diabetes. Leading the study at LAU are Associate Professor of Nutrition at SoAS Maya Bassil and Associate Professor of Nursing Ola Sukkarieh at the Alice Ramez Chagoury School of Nursing.
In partnership with the prestigious Calouste Gulbenkian Foundation in Portugal, the Department of Social and Education Sciences received a $125,000 grant to fund an innovative research and development program targeting school teachers of Western Armenian in Lebanon. The customized two-year project, spearheaded by Associate Professor of Education Rima Bahous and Associate Professor of Education Hagop Yacoubian, offers theoretical and practical components to support teachers in Armenian schools to incorporate innovative skills in their teaching.
In July 2021, the United Nations Environment Programme released a comprehensive report on food waste in West Asia, before and during the COVID-19 pandemic, and existing interventions to help mitigate it, which was drafted by LAU Associate Professor of Food Science and Technology Hussein Hassan in collaboration with AUB.
A co-authored research study by Assistant Professor of Psychology in the Department of Social and Education Sciences Myriam El Khoury Malhame and Assistant Professor of Neuromarketing and Business Communications at the Adnan Kassar School of Business Dunia Harajli explained how people's emotions and attitudes were explicitly and implicitly impacted after the August 4 Beirut blast. In conducting the study, the researchers used the reliable neuro-scientific technology, RTT (Response Time Testing) - a smart test that measures how people respond to Yes/No questions and records the speed and rhythm with which they touch the screen - as an indicator of attitude strength and behavioral intention.
Before the start of the 2021 fall semester, the School of Arts and Sciences announced a new structure that merged the departments of Communication Arts, English, History and Humanities into the Department of Communication, Arts and Languages, and the departments Social Sciences and Education into the Department of Social and Education Sciences. It also introduced the new Department of Liberal Education, which services the entire LAU community. The restructure aims to ensure multidisciplinary pedagogy through liberal education and to empower the arts programs while maintaining a steady growth of the sciences programs.
School of Engineering
Partnerships between the school and the private sector, NGOs and universities serve to encourage students to innovate, research, create their own start-ups with support from industry and professionals in their field.
In November 2020, a team of Petroleum Engineering students seized first place for LAU's SPE (Society of Petroleum Engineers) Student Chapter at the Abu Dhabi International Petroleum and Exhibition Conference - University Programme Competition. The team was supervised by Assistant Professor of Petroleum Engineering Zisis Vryzas and topped 23 university teams from across the MENA region.
A study on the top 2 percent scientists of the world by Stanford researchers ranked Dean Lina Karam and GSR Dean/Professor of Electrical Engineering Samer Saab no. 1 in Lebanon in Artificial Intelligence & Image Processing, and Industrial Engineering & Automation, respectively. Professor of Electrical Engineering Chadi Abou Rjeily was also listed under Networking & Telecommunications.
In March 2021, the QS World University Rankings by Subject 2021 has ranked LAU's Petroleum Engineering program in the top 100-150 bracket worldwide, and no.1 in private universities in Lebanon, based on its high scores in academic and employer reputation, research citations per paper, and H-index - a measure of published scholarly work.
Following the explosion at the Port of Beirut, LAU Assistant Professor Nabil Nehme joined a World Bank effort to run a Rapid Damage and Needs Assessment action plan, in his capacity as faculty representing the civil society. Subsequently, the World Bank issued a report on global best practices in port governance and border management reforms, acknowledging Dr. Nehme.
In February 2021, mechanical engineering student Noeman El Hassanieh won second place in the Dassault Systèmes Model Mania 2021 3D Experience Student Challenge, a worldwide, virtual competition where hundreds of participants attempt to create a 3D design out of a 2D drawing.
The LAU TLP VIP+ model, headed by Dean Karam, is based on a transformative approach to enhancing higher education by engaging undergraduate and graduate students in faculty-industry co-mentored, multidisciplinary real-world projects. Not only do students work within Vertically Integrated Projects (VIP) that are led by faculty, coached by graduate students, and co-mentored by industry partners, but they also get the opportunity to participate in internships, workshops and presentations by distinguished leaders and be exposed to entrepreneurship and startups.
A Memorandum of Understanding signed between LAU and LebNet - a non-profit organization focused on education and mentoring and comprising a network of technology experts of Lebanese descent in North America ­- provided engineering students with the opportunity to connect with and benefit from the Lebanese diaspora's experience in industry. The partnership aimed to give engineering students a competitive edge.
In August 2021, the first phase of a joint project with the Litani River Authority to advance the use of anaerobic digestion of industrial wastewater discharge contaminating the Litani basin was completed. Spearheaded by Dr. Mahmoud Wazne, Assistant Professor at the School of Engineering, the three-phase project will help the Litani River Authority provide clean water to residents of the Beqaa valley, and eventually Beirut, and relieve mainly poor communities in the region from water shortages and waterborne diseases.
As a first in the Middle East, LAU's School of Engineering has introduced the Engineering Premed (ENPMED) track in response to a growing need for health professionals to better understand and keep up with fast-advancing medical technology. The new track will widen prospects for engineering graduates, who will be able to pursue a medical degree, or graduate studies in health-related fields such as biomedical engineering. They can also decide to work in their engineering field of choice.
The Society of Petroleum Engineers (SPE) has awarded the 2021 Excellence Award to LAU's Student Chapter, recognizing them among the top 20 worldwide, for the second year in a row.
In the initial phase, a team of LAU graduate students and industrialists collected and analyzed the organic materials of various samples from food factories to test the effectiveness of the treatment on each plant individually and collectively through mono digestion (single substrate) and co-digestion (combined substrates) and will be publishing their findings.