Dr. Vanda Abi Raad, Clinical Professor/Assistant Dean for Continuing Medical Education (CME)/Director of the Clinical Simulation Center (CSC)
On how continuing education, clinical simulations and support for anesthesiologists endured.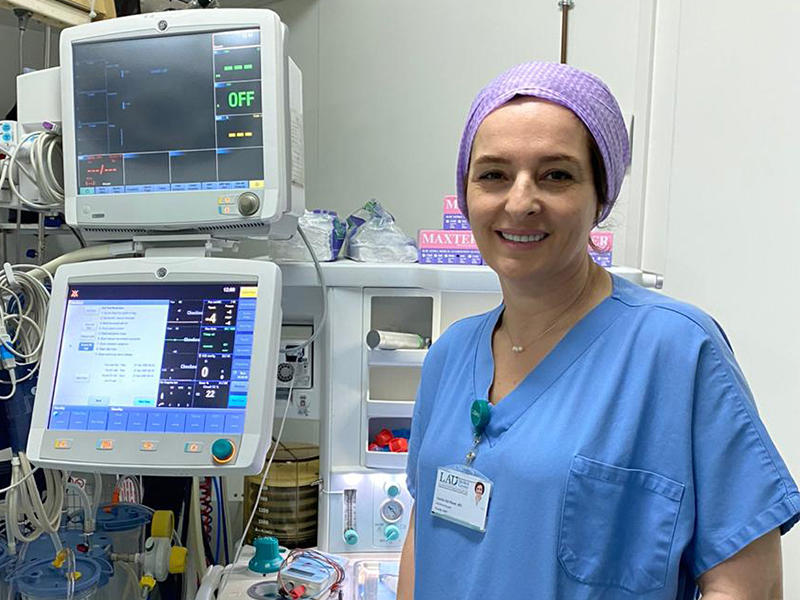 Holding multiple responsibilities, I've had to ensure our work continues on many levels during these tough times.
We shifted CME to online resources in the form of accredited CME activities or synchronous/asynchronous self-paced courses. We've also encouraged all departments to provide CME activities for faculty, residents and students through Webex and an infrastructure for faculty to organize webinars that provide CME was built. A Grand Round series targeting COVID-19 was launched.
Our CSC, which had acquired an advanced audiovisual system through an ASHA grant, is working to put in place virtual OSCEs (Objective Structured Clinical Examinations) for medical students. This challenging endeavor will be made possible with the help of our enthusiastic staff, LAU IT Department and SOM faculty. Thanks to its motivated instructors, our CSC conducted simulation sessions to healthcare professionals in the departments of anesthesiology, emergency medicine and intensive care to improve their preparedness to COVID-19.
Anesthesiologists have been called to the front lines in the COVID-19 pandemic. It is mentally and physically exhausting, with the fear of bringing sickness home to our families. Our department has mobilized and adapted so quickly to this pandemic, providing education and training to protect staff. I've never been more proud to be a part of this department.